Western Red Cedar Swings and Gliders
Just like the "Old Days" at Grandmas!
Everyone remembers someone who had a yard swing years ago.  Now you can be the one everyone makes memories with!  Built of solid 100% Western Red Cedar and completely screwed and bolted together.  Our Red Cedar Swings and Gliders come with everything you need and you can assemble it in an afternoon.  Full detailed instructions with pictures show each step of the assembly process.  Completely sanded and all corners rounded over for a nice finished look.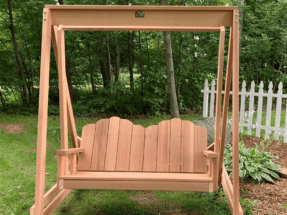 We started building Cedar Swings and Gliders in 1985 building thousands of them since.  Nothing beats the look of Western Red Cedar and will endure the outdoor elements as well as cedar does.  You will see a variety of colors such as shades of blonde, red and brown and some pieces will have several colors in them.
Handcrafted by Dan in Spencer Wisconsin
Helpful Links:
Why Western Red Cedar makes good outdoor furniture?
Great Video from Real Cedar
Cedar 101
Introducing you to our Western Red Cedar Swings and Gliders.
If you are looking for well built swing or glider you have come to the right place. We have been building our Timestopper Swings and Glorydays Gliders for over 38 years and have shipped them all over the United States direct to our customers. All are built of Western Red Cedar and are screwed and bolted together to last for decades.
Our collection includes the gliders for one or two adults and swings for the porch or the lawn for two to three adults. But our gem is our Double Seated Swing with two seats that face each other with room for four adults.
All swings and gliders are cut out, put together, then marked and disassembled. Your assembly time will vary with your abilities but should be between 20 minutes for a glider to 2 hours for our large Double Seated Swing. A drill, ruler and some sandpaper are required for assembly, Detailed instructions will accompany your purchase.
We have sold several thousand Cedar Swings and Gliders since 1984. Check out the reviews of each item to see what our customers think of their purchases. We hope you will find something your like so you can enjoy your special place with a beautiful piece of our furniture built of Western Red Cedar.