Square Table with Seat Backs
Our groundbreaking design!
Home of "Easy Seating Picnic Tables"
Square picnic tables with benches are the easiest tables you will ever use.  Just walk around the seat and sit down.  Anyone, any age can use these square outdoor patio tables!
Square Top
Size:
Small Top 45″
Large Top 56″
…and Hardware Choice:
Standard Zinc Coated or upgrade to Stainless Steel
We will build your table, disassemble it, mark all the pieces, box it up, and ship it to you!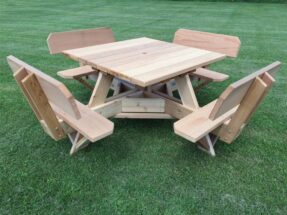 For over 30 years the Square Table with Seat Backs has been our #1 seller.  Before building this design a common complaint by many is how hard it is to sit down at a traditional style of picnic table.  To solve the problem seats were cantilevered and braced up three different ways giving the table strength and now the ease of sitting down and getting up.  Two years later after hearing that many customers wanted a larger table option, one was offered.  Both table sizes will accommodate 8 adults, however the larger size gives each person much more leg, knee and elbow room.
Available in two popular sizes the 8 person patio tables with backs on the seats are the most comfortable way you can use any picnic table.
https://dansoutdoorfurniture.com/heavy-duty-picnic-tables-make-your-outdoor-experience-outstanding/
We started building this design in 1986 and have now manufactured over 11,000 of them.  They are our most popular designs because of the ease of sitting down at the table.  It is also nice to sit down and to see the faces of everyone else at the table.  You can easily chat with anyone else seated around the table.  Playing games is also easier with tables with these designs.
Square Picnic Tables with attached Benches
A picnic table is where memories are made, laughs are shared and food is enjoyed. That's why Dan's Outdoor Furniture makes sure that each 8-person picnic table is carefully handcrafted to perfection. Our square outdoor dining table seats 8, allowing plenty of room for everyone to sit down together and enjoy a meal, drinks or games. Unlike most traditional models, these tables come with seat backs to ensure optimal comfort and stability.
Available in 45" and 56", the 8-person outdoor patio set is crafted of beautiful western red cedar wood. Once it has been constructed, marked and disassembled, reassembly is easy and requires only a drill, level, ruler and sandpaper!
If you've been looking for a square outdoor table for 8, you've come to the right place. Browse through our options today to get started on building those memories and enjoy free shipping, always!
Great Video from Real Cedar
Cedar 101