Western Red Cedar Cedar Combo Table Bench (Set of Two)
Our Universal Table/Benches are built for lots of uses.  Four pins lock the table of the bench in whatever position you wish.  Flip up for a table, or flip it down to use as a bench.  Benches are light and easy to move to wherever you need them.  Standard table height is 30″.  Bench seat is 17″.  For best results use on a flat patio, deck or flat lawn.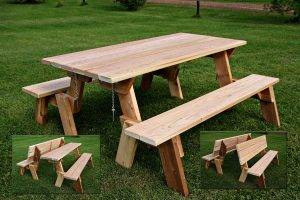 Our Cedar Combo Table Bench is able to be used in many different ways.  One full table, 2 separate benches, or using 1/2 of a table while propping it up against house or deck railing.  One of the most popular uses is around campfires.  With a quick flip, you can lay out chocolate bars, marshmallows and graham crackers and in no time the smores will be putting smiles on everyone's faces.
https://dansoutdoorfurniture.com/7-reasons-you-should-buy-a-convertible-picnic-table-and-bench/
Use together as one large table or separate as two benches.
Great around a fire-pit, on the deck or around the yard.
Built of Beautiful Western Red Cedar, Choose Clear or Knotty
Seats 4-6 adults comfortably.
All edges rounded over.
https://dansoutdoorfurniture.com/unleash-your-inner-picnic-pro-with-a-folding-park-bench-picnic-table/
Great Video from Real Cedar
Cedar 101
Combo Picnic Table/Bench!
We have been building these tables since 1990. Sold as a set of two, they are great to use as two separate benches or put them together as one large table. Four pins will lock the table into the position you choose. They are constructed entirely of Western Red Cedar and completely screwed together. They are built of 2×6's.
Choose from Two Sizes:
60″ Table built of Clear Western Red Cedar
72″ Table built of Select Tight Knot, Western Red Cedar
All tables are cut out, put together, then marked and disassembled. Your assembly time will vary with your abilities but should be less than 30 minutes. A drill, ruler and some sandpaper are required for assembly.