Need a good sturdy chair that will last for decades?  Using all screw fasteners our chairs will stay tight and strong.
Our beautiful Western Red Cedar Chairs come in many different sizes and shapes.
Seats are 22″ wide and a full 1″ thick and nicely quarter rounded for a beautiful finished look and appeal.
Enjoy it by putting it on your porch, deck, in the backyard, around the fire-pit or just off your hiking trail in the woods.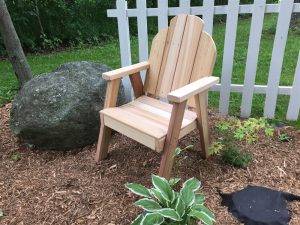 Solid Western Red Cedar construction will insure that you use this chair for decades.
All edges rounded over.
7 Reasons You Should Buy Cedar Wood Furniture
Great Video from Real Cedar
Cedar 101
Our chairs are hand-built of strong Western Red Cedar and come in three unique designs.
The Ozark design has a contoured seat for comfort and a high back for shoulder and back support.
Adirondack Chairs are a classic and we have built them for over 35 years.  Sitting lower they offer great comfort with a high back to support your head.  Wide arms finish it off for room for a beverage.
Our Hillsfield design is simple yet comfortable and strong.
All chairs are sanded smoothly and finished with a quarter round on all edges.
We have a large selection of chairs for every yard, porch of place you need to be able to sit down and take a break. Choose from Adirondack chairs, lounge chairs, glider chairs and just plain chairs. All are constructed of Western Red Cedar and completely screwed together.
All chairs are cut out, put together, then marked and disassembled. Your assembly time will vary with your abilities but should be less than 20 minutes. A drill, ruler and some sandpaper are required for assembly.